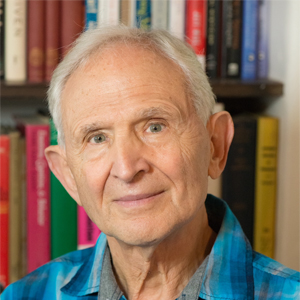 Peter Levine

As a young child, I was endlessly fascinated by natural phenomenon. Indeed, my mother described how I, by the age of ten, inadvertently discovered Newtons first law and Archimedes law of fluid displacement. I believe that this passion, and tenacity for understanding natural laws, has guided me throughout my life. My fascination and engagement in life has served me well in the development of my body of work, discovering the roots of trauma and their healing pathways. My early years had trials and tribulations, as many do, and like others who have experienced childhood trauma, I was guided by my own compelling need to heal. I guess you could say that much of my research was "me-search."
As a young adult, entering a PhD program in Medical and Biological physics at the University of California, Berkeley, I had a prophetic dream which set the arc of my explorations of trauma and of the human condition. In this dream, I was walking towards a two-column elevator with spherical entry ways. I realized that this was an autonomic ganglion. When I entered into the door, I felt an ominous presence. As I looked around, I discovered that it was the cold disapproving look of an important mentor I had in undergraduate school. His mechanistic worldview had no room for feelings and sensations; and he certainly would not approve of my new direction towards the study of "life-energy." In the dream, I went through the autonomic door and there was no turning back. Then in 1978 I met Stephen Porges and we shared a passion for bottom-up processing and emergent properties. My relationship with Porges and this prescient dream heavily influenced the development of Somatic Experiencing®.
Over the past 50 years, as I developed SE™, and then taught it to anyone who would listen, I mentored thousands of therapists and healers worldwide. My passion turned to be a "Johnny Apple Seed," spreading my knowledge around the world. And now this passion is being extended to dedicated Faculty members who are passing on this legacy.